The Tape version of CALTH – "Unrevelation" album was released by Southern Plague records (Argentina) in limited edition to 200 copies!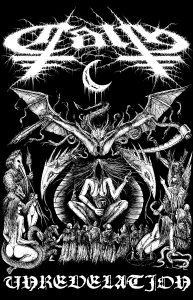 The release contains all 8 tracks from the "Unrevelation" album + one bonus track: cover of the track "Lifeless" by DARKTHRONE (from the album "Ravishing Grimness").
Tracklist:
1. Unrevelation (intro)
2. Leader of the Blind
3. Old Immortal Pest
4. Grave of the Ancient
5. Dehumanizing Breath
6. Black Dawn Horizon
7. Black Hand Path
8. Blackdeath
bonus track:
9. Lifeless (DARKTHRONE cover)
Recorded in 2015, Phoenix, Arizona, USA. Bonus track on tape version recorded in 2015.