Witnessing the decline in the world and the degeneration on an excelled universal level birthed Darkskin. Originally formed in 2009 and hailing from United States of America but only producing demos which haven't heard by many. Now, finally Darkskin has come into more of a public light so many more can hear the sound and message that the world needs to hear. Standing against the impurity that has been infesting society lately, such as multi-culturism, LGBT, Antifa, Liberal/Communist beliefs, white guilt and other atrocities that plague the European/American state. The battle which once was said will happen is but reality now and Darkskin produces anthems for the fight.
Darkskin is The Son, the leading member of the project and creator of pure message. There have been others involved but those whom will be unnamed. The Son solely performs on this first release album, "Son Of Hitler". The mission is to produce sounds of pure hatred and set the world on the right path. This is only the beginning of the long journey of Darkskin.
Current line up: The Son – All
~DISCOGRAPHY~
"Son of Hitler" (Full-length 2018)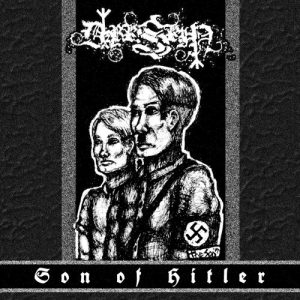 1. Son's Awakening
2. Deutschland, Nein
3. Sweden's Kingdom Fallen
4. Ruins Called Europe
5. Digging Up of a Swarthy Grave
6. Trans Rights Burnt
7. Jew World Order
8. Aryan Magic
9. White Reflection
10. South Africa Rotting
11. White Guilt Plague
12. LGBT Disease
13. Once the Time of Slavery
14. Son of Hitler
15. The Forest of Hanging Niggers
16. Resurrection of Pride
17. White Swart Lover
18. Welfare Check Effigy
19. Hate for the White Race
20. Sub-human Lust
21. They Say, Goodnight White Pride
22. Black Lives Don't Matter
23. Red Skin Humiliation
24. The Six Million Laughs
25. When Death is Only Opition
26. America's Promise
27. Mourning Hitler
2018 Pro CD-r limited to 50 by Acclaim Records.