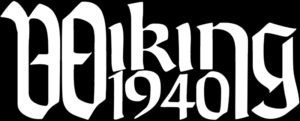 Wiking 1940 was born in 2016 during the recording of Via Dolorosa's "Immortal ad Vitam".
The lyrics are inspired by war battles, military's tech, war facts, because Nameless has a degree in history and LH is an ex-Army officer.
Nameless: vocals, guitars, bass, programming, keyboards
LH: guitars, bass, back vocals
Nameless is ex-Guest musician of Via Dolorosa and Bastardi Putridi di Vicenza.
LH is one of originators and former member of Via Dolorosa (vocals and guitar), member of Dodskammer.
~DISCOGRAPHY~
WIKING 1940 – "Trilogy of War"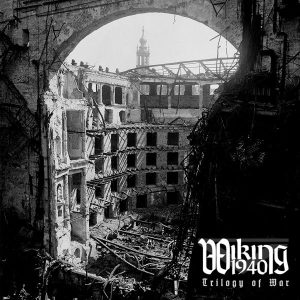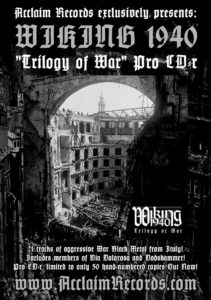 1. Shoganai
2. Vicenza 25/12/1943
3. Die Gustloff
4. Er Ist Wieder Da
5. The 1st Vision Of God
6. Beyond The Point Of Singularity
7. ScornHT
8. Reborn 238
9. Shoori
10. Skorpion
11. Beasts of the sea
12. Wüstenfuchs
13. Einsatzgruppen
14. Spear of Destiny
15. Tiger E (Panzerkampfwagen)
16. Bomber Command
17. Destruction of Dresden
18. _________
19. Duty & Honor
20. Jagdpanther
21. Sonnenrad
2018 Pro CD-r limited to 50 hand-numbered copies by Acclaim Records.